Serge Boulier
& the Cie Bouffou Théâtre
The Company
BOUFFOU Theatre, a professional company created in 1986, creates and presents, in France and abroad, a range of puppet shows for children and grown-ups. Always seeking to draw the audience into a shared emotion, Serge BOULIER, the company's artistic director, stages players and puppets with the same goal of opening new passageways to "potential elsewheres". "For over twenty years, BOUFFOU Theatre has worked at reaching a better understanding of the world we live in, and to question it through theatrical proposals linked to the art of puppetry."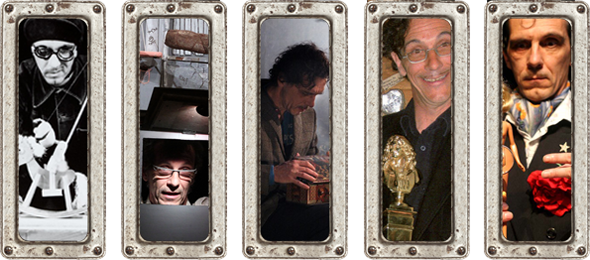 Portrait of a self-taught dyslexia major
"When I was little, I always got zeroes in writing and dictation, so for the longest time, I believed that because I couldn't spell, my stories were not interesting and I had nothing to say. Thankfully, I was "good with my hands" and as my mother would say: "this boy will do something technical".
So I spent my teenage years submerged in machine lubricant.
And then, one day in the year of our Lord when Giscard gave way to Tonton, I discovered the wonderful world of puppets. It was tho thweet, going the rounds of the schools to make the kiddies laugh. I learned two things from this initial experience: that school really was not for me, and that puppets allowed me to approach theatre in a different way. Since then, I have been experimenting this other form of theatre, somewhere between the inanimate and the living – exploring its caustic, pathetic, absurd gravity. From large State theaters to corner cafés and across the street, these smaller-than-life entities build up what used to seem so difficult to me. I still don't know if I have anything to say. I say it anyway.
Serge BOULIER